As some of you might know, I have been researching making a better O2 housing for the stock turbo, or in my case, a modified TKT hybrid using the stock exhaust turbine housing with a Garrett Center Cartridge and a Garrett Compressor Housing. I realized that much of the power of the newer bigger turbo was being choked by the stock o2 housing and downpipe.
So I started off on a quest to make a new BIGGER and better flowing o2 housing. PLUS I thought it was a better idea to divorce the wastegate flow and it all had to fit with my air conditioner compressor..
First, note that the stock o2 housing actually has a standard 2.5 inch 3 bolt flange.
Here is the housing with a 2.5 inch flange placed on it: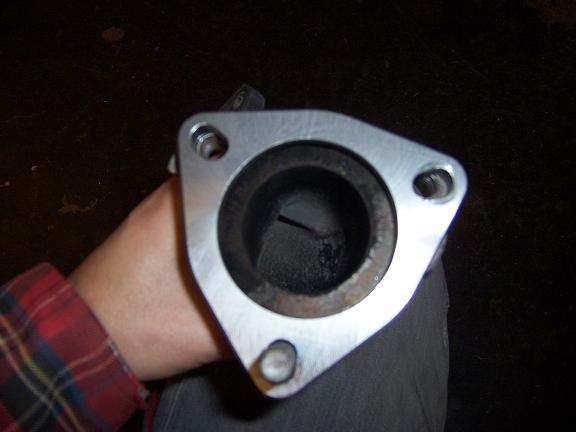 Note that the actual ID of the stock o2 housing is TINY, less than 2 inches.
Here is one that someone on MX6.COM made by chopping the stock o2 housing and first welding 2 inch, then 2.5 inch pipe to it. Kinda sloppy but it is better than stock.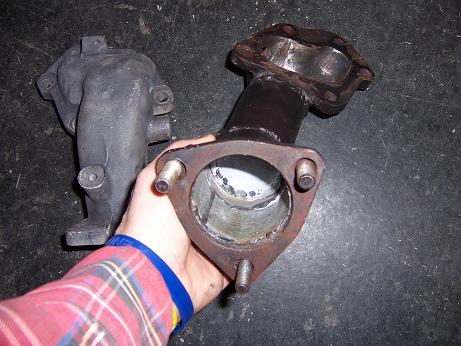 The outlet is much bigger, however, it started out from the stock downpipe where there is a significantly small and square restriction in the bell housing, PLUS the wastegate exhaust air is released right there into the turbo exhaust flow.
So you really cant build off the stock o2 housing. You need to start fresh with a good flange like this one:
You can get these at
Welcome to BMC Racing Products - Welcome to BMC Racing Products
for $35.
However, this wasn't exactly what I needed.
First, this flange basically does the same thing as the stock o2 housing, by the fact that its thicker and there is an indentation that allows the wastegate air to flow into the turbine exhaust flow.
They happen to be in Houston where I am, so I went down there and had them design it like this.
This way, I could weld on 2 separate pipes, the smaller one for the wastegate.
We also made the flange only 3/8th inch thick so we would not have to truncate the pipe so much.
Also note the little notch we added so the wastegate hinge would have no chance of getting stopped by the flange.
Thanks to me, they now sell this one too, and for significantly less, but you need to call them to get the right version and pricing.
The next step was to weld up a fixture from the stock o2 housing. My goal was to make one in the same dimensions as stock for ease of upgrade. That way, I could make more and sell them to anyone that wanted to just bolt it to their stock downpipe (which I don't recommend).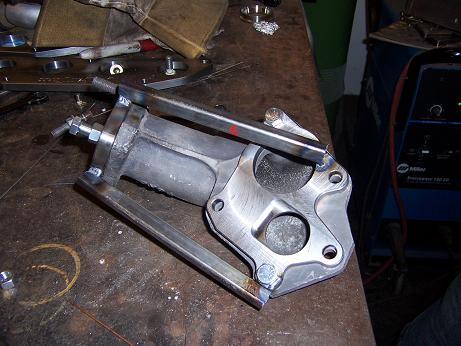 Then we welded a "fence" to the other side so we knew where the a/c compressor was.
This way we could stay clear of it.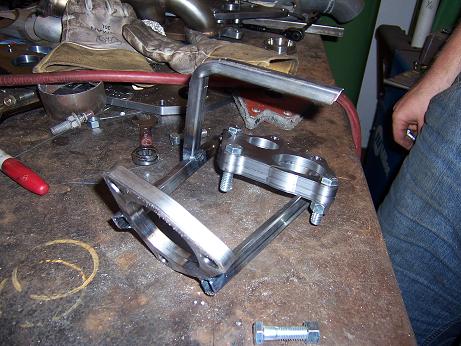 This is what we came up with using a 1.25xd 2.5 inch 180 mandrel bend and a 1.5xd 1.5 inch 180 mandrel bend.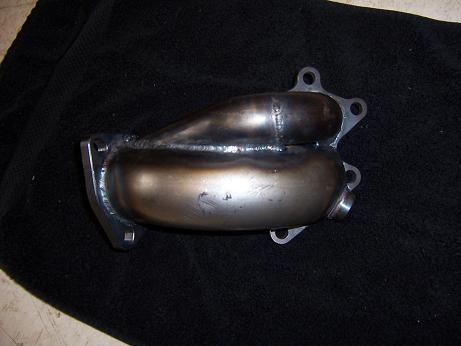 It was not easy. It took a good 8 to 10 hours of welding, cutting, flaring, collecting, etc,
to come up with something that would put the wastegate flow back in as gradually as possible and still be
boltable to the stock turbine housing using the 5 studs.
I will show you more pictures but FIRST I want to show you what we did on the OTHER side of the IHI flange.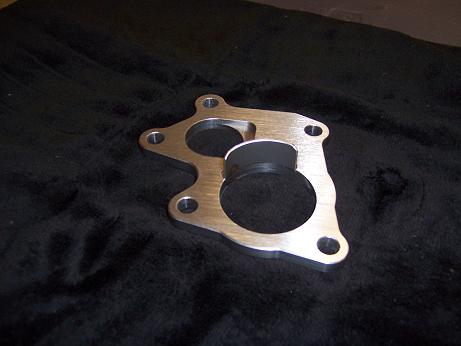 We took the CNC design of the original thicker flange and determined the
circumferencial length of a piece of 2 inch pipe needed to make a fence that
would just fit into the turbine housing. We measured the depth and made this fence
piece just a few thousanths shorter than the depth and welded it on.
When we test fit the flange, in the case of my cast turbine housing, it was almost a PERFECT match.
We only had to do a slight amount of grinding on the corners.
This fence essentially separates the inside of the stock turbine housing without having to remove it and modify it.