Dyno Results - Current ATX Setup vs (Later) KLG4 IM, TB, Cat, MTX Swap
Hi all Thread @ PT
http://forums.probetalk.com/showthread.php?t=1701311944
I know many people have wanted to know what dyno results could be for a similar setup to mine.
I will update the details as I get them. show the before and then the after dyno (When the Mods are done, for the KLG4, Millenia IM and new Magnaflow Cat)
Current Setup:
- 1994 MX6 V6 2.5 KLDE
ATX
w/ 136,000 Kilometers
- OBX 2.5 Headers
-
STOCK
Cat
- Brullen CatBack Exhaust
- Short K&N RAM Intake
Below are the results:
- appears I am running a bit lean in the mid range, might look at a fuel pressure regulator : Should add ~4HP gain, at atleast more gain in the midrange
- Magnaflow HiFlow Cat should add ~5 HP Gain
- ATX kills HP.
Approx 30 HP is Lost
. Plain and simple. I'd be getting lower results with out the boltons.
- Yes, I am already planning a 5 Speed swap early next year - that should yield ~20+ HP
I am still awaiting for my KLG4 IM and Millenia TB. Cat is arriving this week. Once installed in the next ~month, I will dyno again.
Car pulls bloody strong and runs damn well. Looking forward to any additional gains. Turbo will never been in the future for this car.
Dyno Results Test #1 (No KLG4 IM/Millenia TB/ HighFlow Cat.... Just Headers and catback)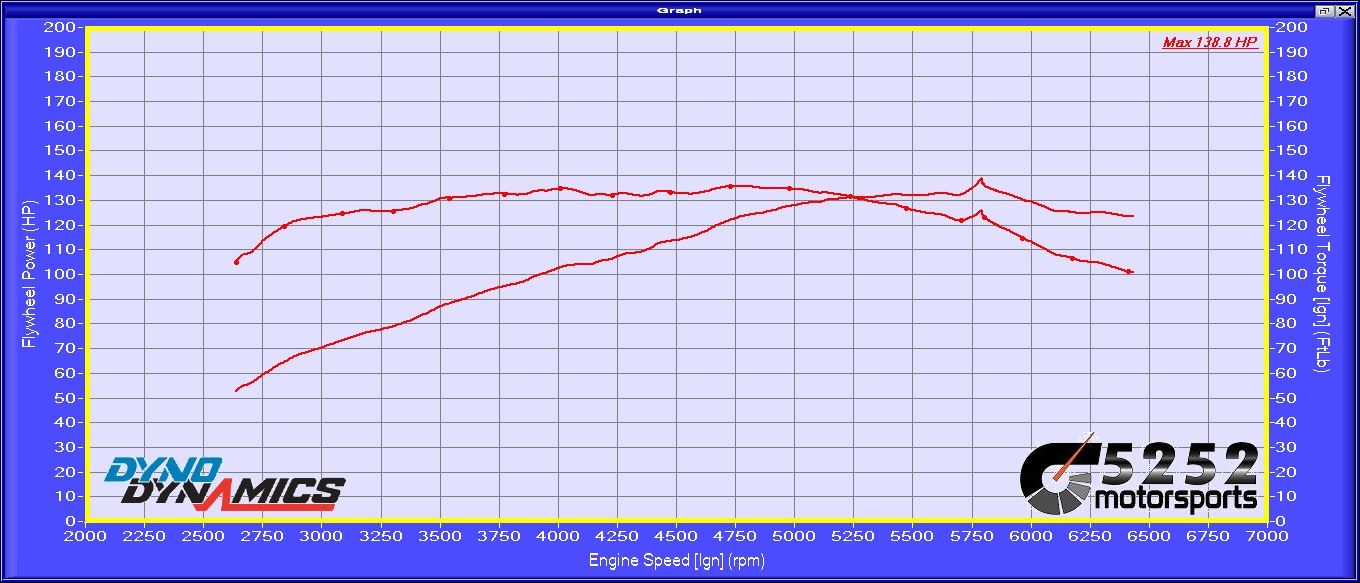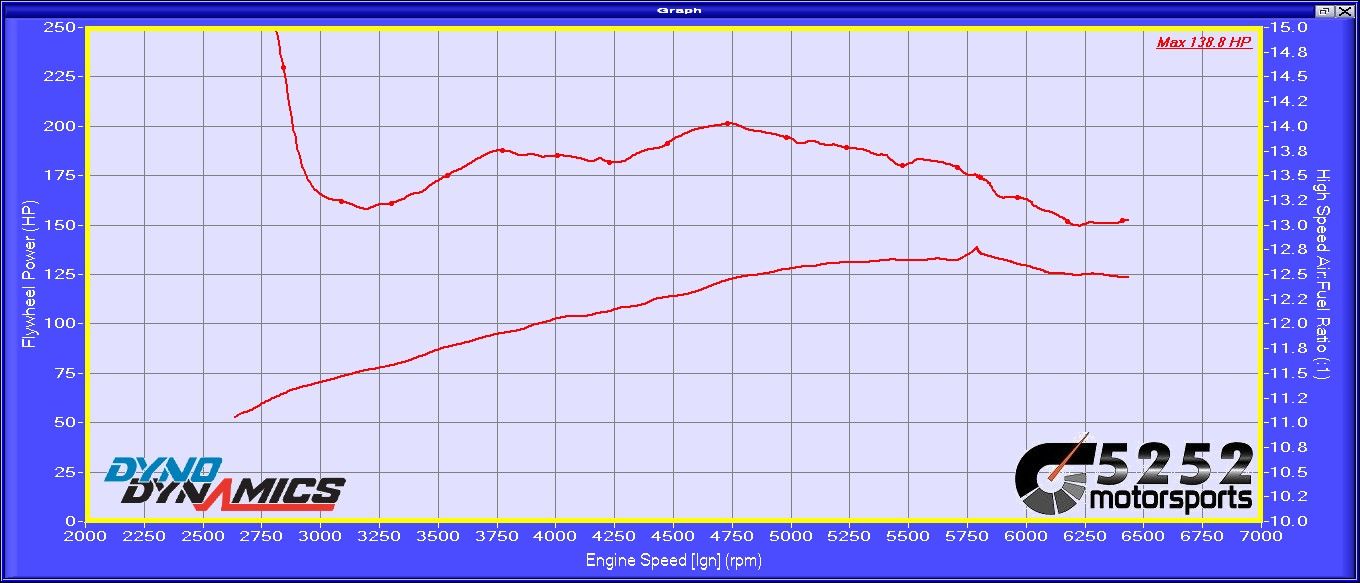 Comments
Also dug around here and found this below as a potential base line comparison prior to my header & cat back upgrade on other ATX probes
ATX PGT DYNO numbers - ProbeTalk.com Forums
Purple_94GT
PT Regular
127 whp for me in April. Only performance mod was Borla exhaust.
Lucas
pgt4speed
POC Mod
128whp 132wtq

Dyno Results Test #2 (With KLG4 IM/Millenia TB/Hiflow Cat/CatBack/Stock ECU
Dyno Colours :
Green
= Last Dyno
Red
= This Dyno
Horse Power Comparison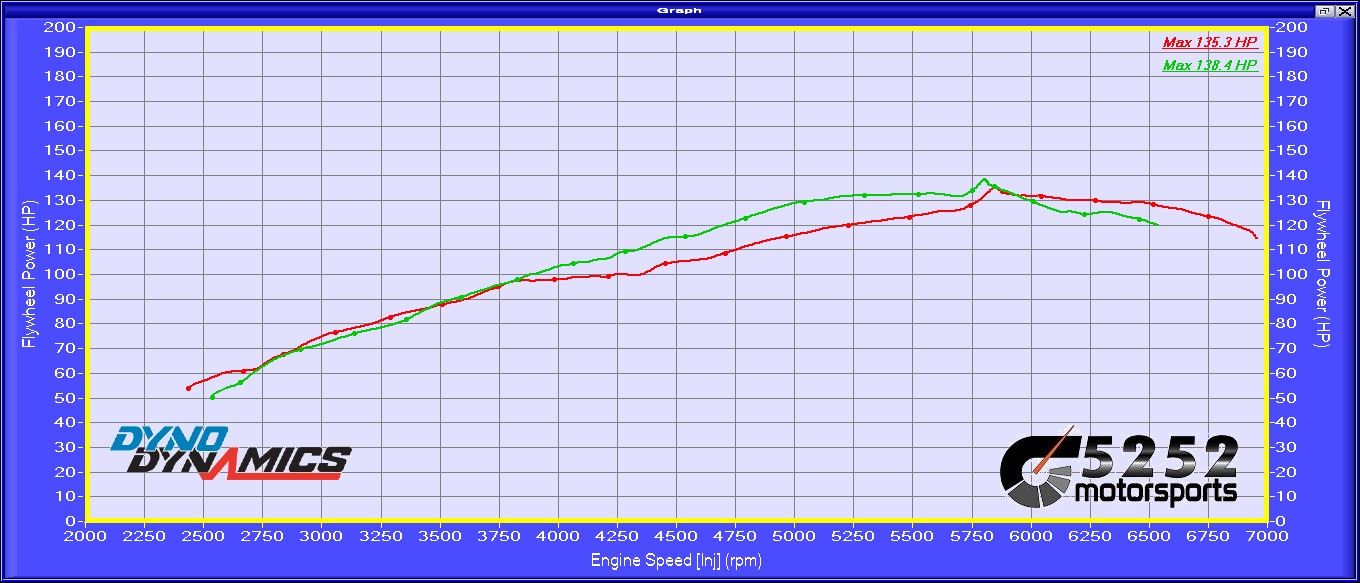 Torque Comparison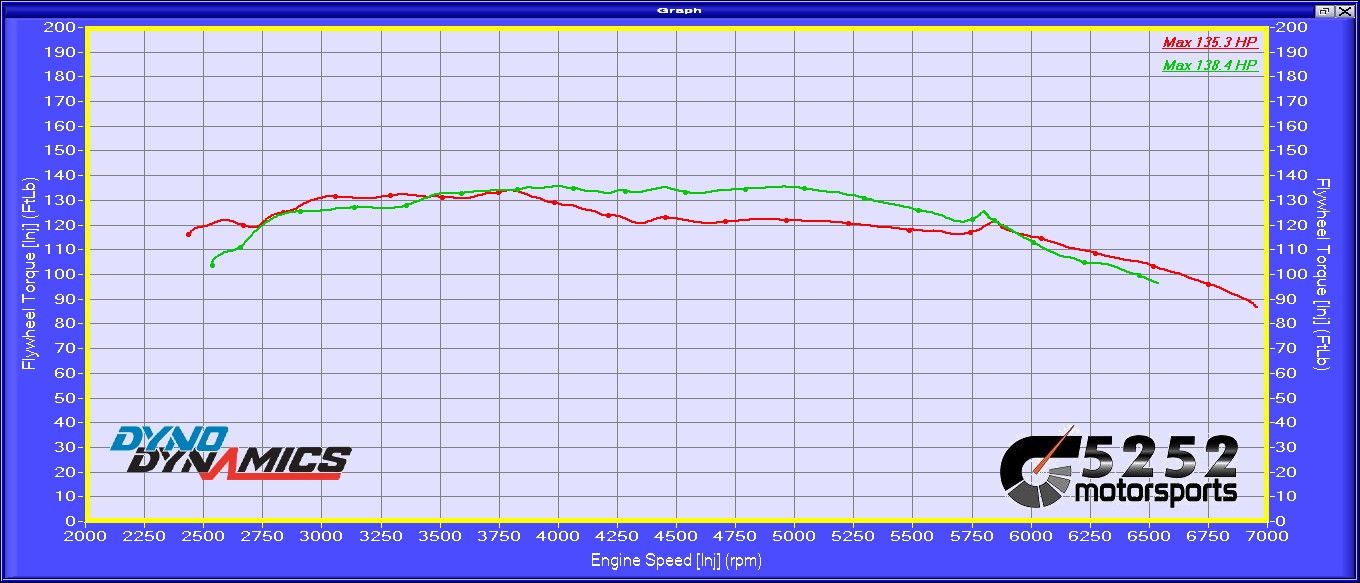 Air/Fuel Comparison
Summary of Dyno Comparison
- Is there Gains = Yes
- Are there Losses = Yes
Why are there gains?
Like Michael @ Xtremethings thought, you get more at the highend and loose in the mid range.
Why loose in the mid range between 3800RPM to 5900RPM?
The VRIS points are different for the KLG4 vs the KLDE IM. You can see that I lost 10HP+ in the Mid range, but gained 5-10HP in the top end over 6000RPM. I also lost the same % of torque in the mid range as well. And my VRIS is working right.
Dyno Results Test #3 (MTX SWAP w/KLG4 IM/Millenia TB/ HighFlow Cat/Headers and catback)
This includes all THREE major dyno runs from each test!
This MTX Swap is using a 626 5 Speed Transmission with a Fidanza 9lb flywheel. Current milage on car is 150,000KM
Please note that the Check Valve is now installed correctly, as it wasn't for Dyno Test #2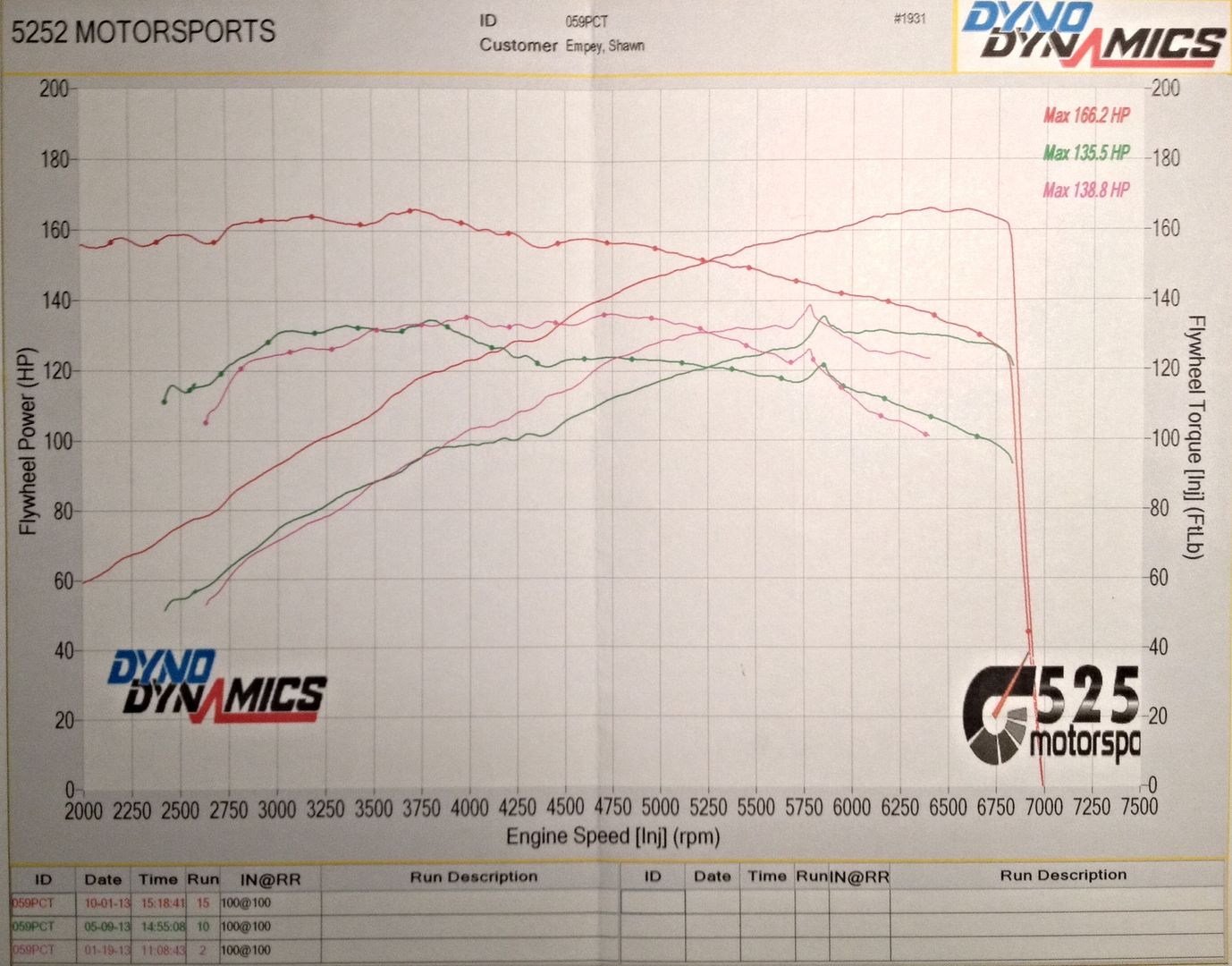 Here are the dyno results broken down into a spreadsheet. All three dyno's are represented here. I've tried my best to determin the exact #'s based on the graphs
As you can see, the Swap has netted me 30 to 50+ extra HP and torque at all sort of goodness RPMS
Dyno Results Test #4 (VAF vs ODBII MAF SWAP)
This is the offical ODB2 MAF Swap provided by Scott. As you can see, win all over. Not posted, but official dyno @
172.8WHP
. This graph shows the best
Torque
gain
Dyno overlayed with last dyno
#3
MTX Swap. As you can see there is full truth that the VAF goes dumb, closed fuel and air mapping, over 4200RPM. The MAF just takes over where the VAF leaves off.
Gains
- 15-20 WHP
- 18-22 Torque
Wheel Horse Power
Torque Comparison