Discussion Starter
•
#1
•
****PLEASE READ: MX6.COM OR I ARE NOT RESPONSIBLE FOR INJURY OR DEATH IN THE MISFORTUNE OF AN ACCIDENT IF YOU USED THIS WRITEUP TO INSTALL YOUR SEATS. IF GOOD HARDWARE AND THICK ENOUGH ALUMINUM/SHEET METAL IS USED, THESE SEATS WILL BE JUST AS STURDY, IF NOT STURDIER THAN STOCK SEATS. THE USE OF POOR QUALITY HARDWARE CAN RESULT IN DEATH OR SERIOUS INJURY. USE DISCRETION WHEN INSTALLING THESE SEATS. I, IN NO WAY MAKE A CLAIM THAT MY INSTALLATION IS 100% "SAFE"****

I know from searching to get ideas on how to install my seats, that there are a lot of MX6'ers that would appreciate a write up on an aftermarket seat install. Since there isnt one, and I was doing the install/fabrication anyway, I decided to do a write up on it. This writeup is just a guide. No 2 aftermarket sliders are the same, so my measurements will mean nothing to you. However, this is a good basis on how one would install aftermarket seats. I hope this helps out a lot of people, because this write-up, and the install in general took some time.

Well, lets get on with it.....

Here is a picture of the seats I will be installing during this How To.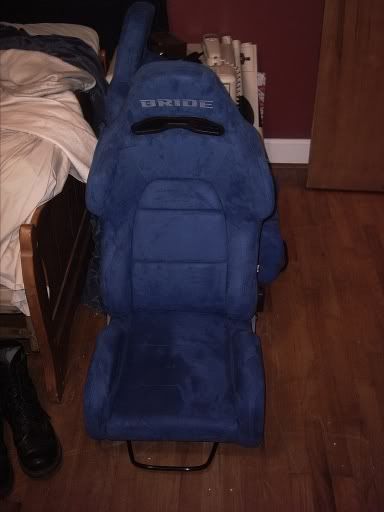 They are Bride Brix II replicas, covered in either Suede or Alcantra, or some type of immitation Suede. Theyre very accurate, and say Bride on front and back, on the tag, and on the Bolster adjustments. The only noticeable difference, is that Bride doesnt make seats in Suede or Alcantra, and Bride uses Memory Foam. These are not made of Memory Foam. They cost $489.99 shipped, from www.pitstopmotorsport.com. I actually bought mine off of Ebay, but its the same company. Search for "Bride Seats" in ebay, and the sellers name is dirkslyder. They come in Blue, Black and Red, Black and Blue, Black and Grey, Grey, Black, and Red. When he runs out of a certain color, it takes him about 8 months to get more in, so if they dont have the color you want (should you decide to purchase a pair) then youre SOL.

On a side note before we get started, he also has more realistic/accurate Bride replicas, but theyre more expensive ($899.99 shipped) Said replicas are the same fabric as real Brides (or similar) and have the Bride embroidery as seen here

Real Bride Brix II's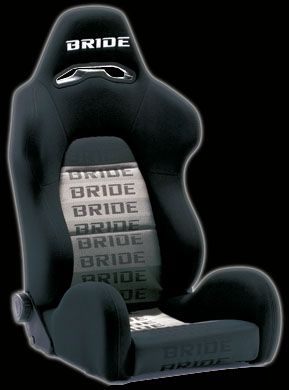 He also has the same seats as mine in "blanks" or without any writing or stitching on them at all. These are even less than what I paid for mine, somewhere in the high $300s I think.

When I bought these seats, I had no idea how I was going to mount them in the car. I had some vague ideas, but as far as anything concrete, I decided to wait till I got the seats to fab something up. My basic idea all along, was to cut the stock "feet" off of the stock sliders, and mount them somehow to the aftermarket sliders, keeping the same distance between the stock mounting points (side to side, and back to front)

First things first, I mounted the sliders up to the seats. There were no instructions, so it took me a while to figure out how they go, but after a little while, I figured them out, and bolted them up. Here is a picture of the aftermarket sliders bolted up to the aftermarket seats




After the sliders were bolted up to the seats, I had to take some measurements. I measured the distance between the holes in the aftermarket sliders, front to back, and side to side, and the stock mounting points where the "feet" of the stock sliders bolt up to the floor, front and back, and side to side.




...and the same thing with the floor.

The stock mounting points are further apart (side to side) than the holes in the aftermarket sliders, so obviously you cant bolt the "feet" up to the sliders themselves, or the holes for the bolts to go into the floor wont line up. The holes for the "feet" to mount the stock seats to the floor are 17 1/4" apart from side to side, and 18 3/8" apart from back to front (not important right now) The holes in the aftermarket sliders are 15 7/8" apart from side to side and 11" apart from back to front (not important right now)

To compensate for the difference in width, I decided to take a couple pieces of fairly thick aluminum, approximately an inch and a half in width, and 18" long and drill holes in them 15 7/8" apart, and mount them to the front and back holes, going across from one aftermarket slider to the other. Like this: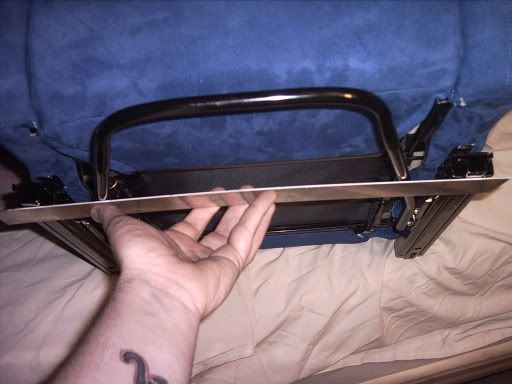 Then, drill a couple holes in the aluminum, 17 1/4" apart, to mount the stock "feet" to. Since the bolts that hold the "feet" to the aluminum will still be under the aftermarket sliders, I had to put some washers between the aftermarket sliders and the aluminum, so that the bolts that hold the "feet" to the aluminum dont hit the sliders, and interfere with moving forward or back when theyre installed. Here is what I mean: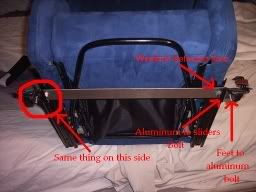 This idea will work with the back "feet" as well, however, you have to make sure that you mount the aluminum that holds the back "feet" to the aftermarket sliders a certain distance from the front "feet", or else the mounting points wont line up (from back to front)

Now that we have an idea of how we're going to mount the "feet" to the aftermarket sliders, and all our measurements are taken, all that is left is actually doing it.

Before discussing hardware needed, I'll go over the tools I used to do this install:
-Dremel
-Lots of cut off wheels
-Ratchet
-14MM socket
-1/2" socket (this will be different depending on the bolts you buy)
-1/2" wrench (this will be different depending on the bolts you buy)
-Drill
-3/8" drill bit (this will be different depending on the bolts you buy)
-Safety glasses (optional, but recommended)
-Hammer (used to get the "feet" off once the rivets were grinded down)
-Vise grips (made removal of the "feet" easier)
-Allen key (this will be different depending on the seats you buy)

I made a list of all the hardware I needed to complete the project, and went to the hardware store and went shopping. Here is the hardware I used: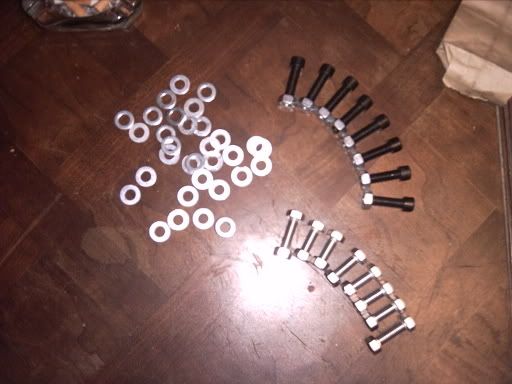 -8 short bolts (these hold the "feet" to the sheet metal, 1 on each corner, 4 per seat)

-16 nuts (these were used for both the "feet" to sheet metal mounting holes and the bolts for the aftermarket sliders to sheet metal holes. 2 per corner, 8 per seat)

-32 washers (used to take care of the issue discussed a few paragraphs back. 4 per corner, 16 per seat)

*NOTE: REMEMBER THE DISCLAIMER AT THE TOP OF THIS WRITE-UP. IT'S RECOMMENDED THAT YOU USE GRADE 8 HARDWARE. I WILL PROBABLY UPGRADE THE ALUMINUM TO "FEET" BOLTS IN THE FUTURE, BUT THEYRE FINE FOR NOW*

I already had the bolts to make the aftermarket slider to aluminum connections. They came with the seats, I just needed nuts for them, which is what the extra 8 nuts are for

Total cost in Hardware=$15.00

Once all the hardware needed is collected, its time to cut the "feet" off of the stock sliders. These were a bitch to get off, so good luck. I used a dremel for this, but you can use your prefered method. A dremel would be easiest, and to be honest, I cant think of any other way to do it. I basically had to grind/cut the bottom of the rivets down until they were flush, and then bang the [shizzle] out of the "feet" with a hammer until they came off. One of the "feet" in the back have a couple welds that hold it on as well, so this one will be a little more difficult to get off.

If you dont want to ruin the stock sliders, then I suggested talking to Mike Hughes (Hughes46) about some sliders that you can cut the feet off of. Its always good to have a set of spare seats that you can bolt in, but my stock seats are garbage anyway, so I dont really care :shrug:

Stock front "feet" after removal:




Instead of mounting the aluminum to the aftermarket sliders, and then playing guessing games on how the "feet" should be mounted, I decided to do the opposite. I bolted the "feet" in the car how they would go if they had seats attached to them, and then mounted the sheet metal across the fronts, and across the backs as well. It was necessary to drill a bigger hole in the "feet" to fit the bolts through. Here is what I mean: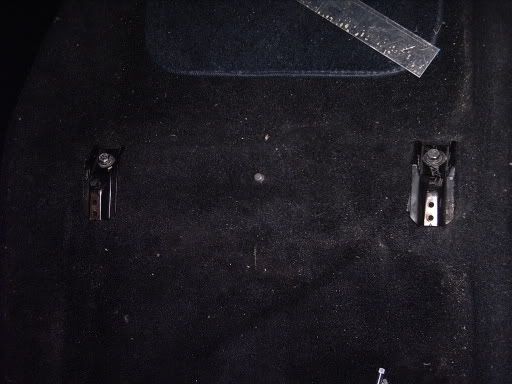 Then, drill holes in the aluminum, and mount it to the "feet", like so: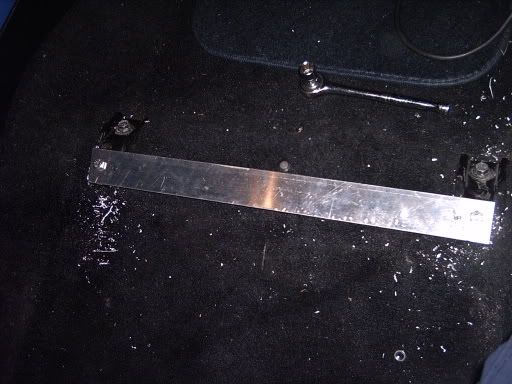 The backs will look like this once you do the same thing to them that you did to the fronts: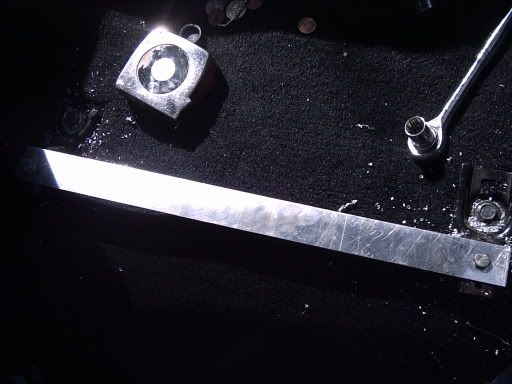 *NOTE: THE PICTURE ABOVE IS NOT HOW I MOUNTED THE REAR "FEET" TO THE ALUMINUM. I HAD TO MOVE THE BOLT TO THE FRONT HOLES, AS THE HOLES IN THE SLIDERS DID NOT LINE UP WITH THE ALUMINUM, AND I DID NOT REALIZE THIS UNTIL AFTER I TOOK THIS PICTURE*