Discussion Starter
·
#1
·
Before I play some COD4 and pwn some noobs with the G3, I thought I would make this thread before I forget. In lieu of actually, finally, getting my brakes to work again tonight, I feel that the power bleeder I built a couple weeks ago helped.
What you will need(or what I used as pictured), I got all of this besides the cap at OSH:
Garden Sprayer/Weed Sprayer(11.99)
3/16 inch clear hose(2.99 for 8 feet)
male brass hose barb with threaded end on one side,3/16 inch(1.00)
accompanying nut for said barb(1.00)
washer for barb(free)
IMPORTANT: a Mazda 323 Master cylinder reservior cap!(freebie at junkyards)
-The stock Probe/Mx6 will not work as it will leak due to threads having gaps
Screwable C-Clamp for the cap(free)
Pressure gauge, threadable(11.99)
On sealants: I didn't use any, only on the cap and the brake fluid invariably just ate through it. So in essense, if you buy a thick enough Garden sprayer and undersize the drill bit for the barb for the cap, it should be air tight. I got it too 12-15 psi with no leaks. However, if you feel like you need it I would just go with JBWeld. Everything else may be eaten away by the brake fluid or may be too soft to seal like the blue RTV pictured(not backed by evidence though)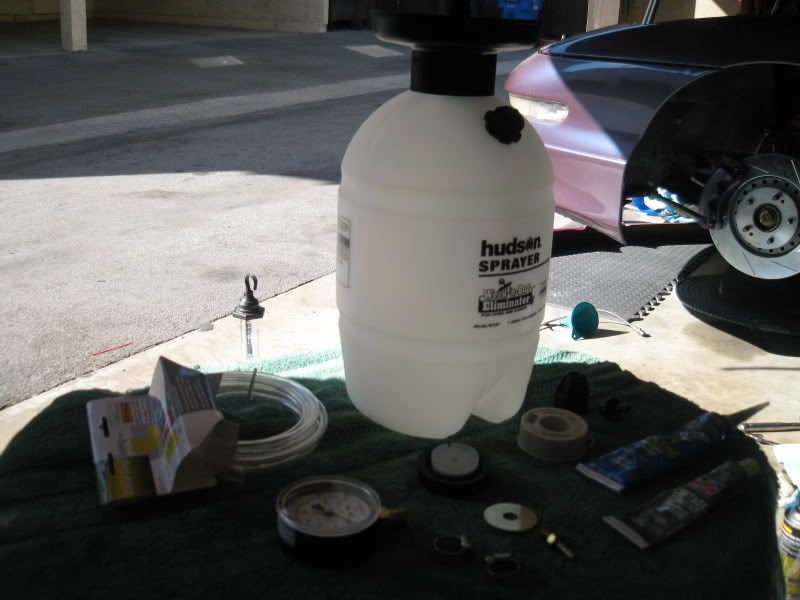 A lot of what is pictured I didn't use like the sealants, the two little C-Clamps, and inevitably the stock cap.
Drilled a hole for the gauge:
Gauge in, no sealant. Gauge threaded fine and seals itself against the thick sprayer walls. I would recommend using sealant though.
Hooking up the lines. Note: You may have to use different sized clear line if you use a different garden sprayer. You could size the hose up at the hardware store. There were displays I took apart at OSH to size the lines.
Cap, I used the pipe sealer pictured that ended up getting eating away by the fluid. Leak free though. Do not forget the C-Clamp for it when you put it on the Master Cylinder. It will leak other wise. Just tighten the Clamp around the cap and it should be good to go. Also there is a breather hole(WTF) in the cap that you will need to seal. I just used a screw I found in the garage.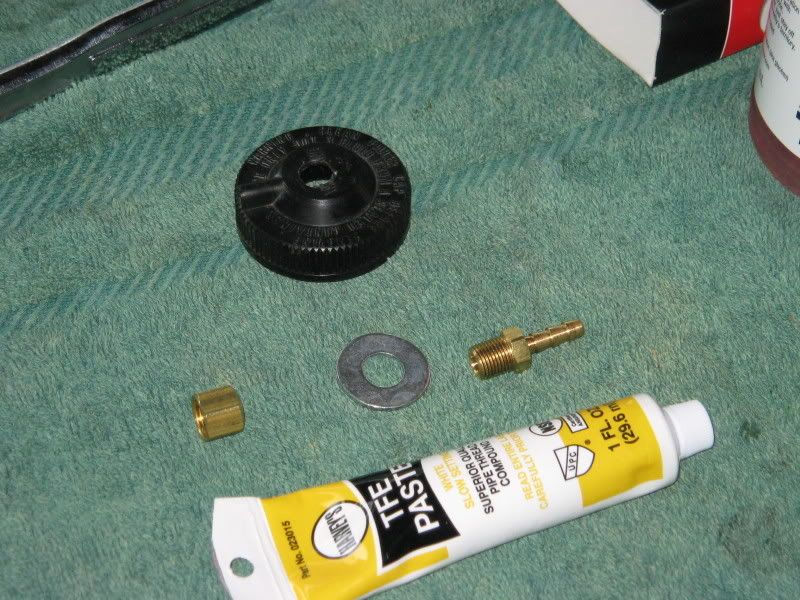 All hooked together(this is with the stock leaky cap, but the pic works):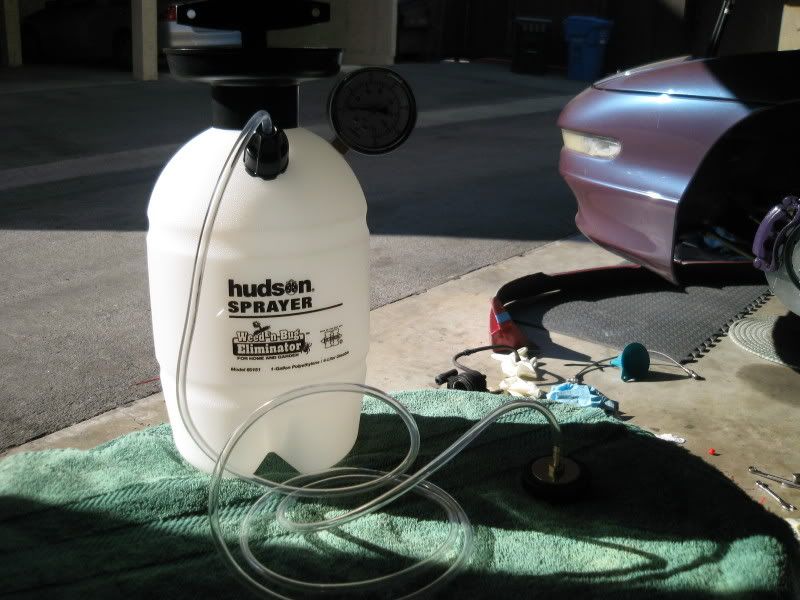 Again, this is with the leaky stock cap, but it shows how it all set up. I did not get pics with the 323 cap clamped on: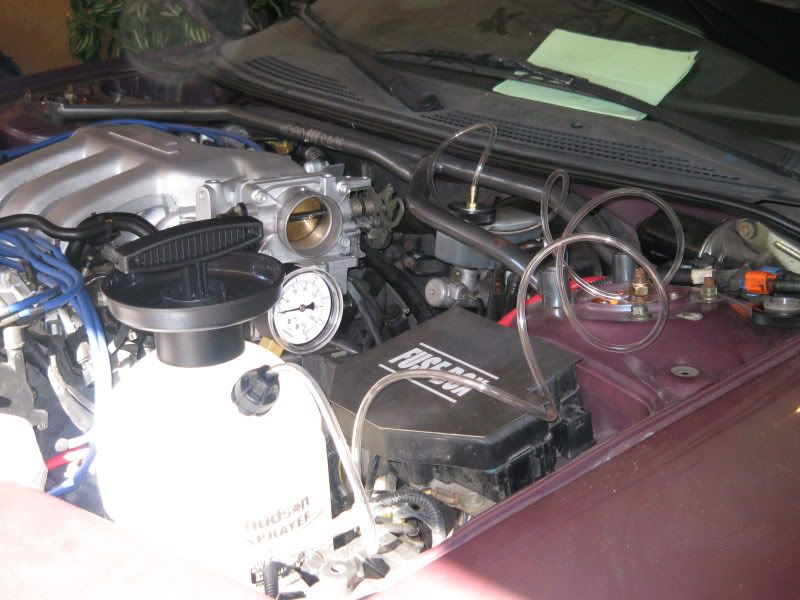 How to use it:
Just fill the sprayer with brake fluid(don't need that much maybe half of a bottle), attach the 323 cap to the MC and pump the sprayer to 10-15 psi as foretold by your gauge, do not go over these PSIs as you can blow the seals in your MC. Once you reach your PSI, crack the rear passenger bleeder screw. The pressure from the sprayer and in the MC will force fluid and air out. This took about 5-10 seconds for me to be clear. Move on to the driver front, then the rear driver, and lastly the passenger front. When finished use a turkey baster or a syringe to syphon out excess fluid from the reservior. Seriously will take you 10 minutes, if that, to bleed your brakes. I love this thing. Don't need anyone, and can be used for later use!
Also, I just built a catch can with the left over hoses fitted to a 1/4 inch hose and a empty water bottle. I should have gotten a picture of it, but it shouldn't be hard to make one, especially if you already made a pressure bleeder.
However, this does not work on the clutch slave. You will have to do it the old fashion way. Or atleast it would not work for me. Oh well.