Discussion Starter
•
#1
•
Hey everyone...
I saw some people on here that tinted their tails, and I liked the look it gave. I've decided to make a HOW TO for anyone's that's interested in doing the same.
:useless:
I KNOW HOW WE ALL LOOOVE PICS...so i've got pics for the steps. :tup:
First step is gathering supplies.
You will need:
exacto knife
masking tape
ruler
bucket
A can or two of NightShades Tinting Spray (i couldn't find it at auto parts store...ordered online)
A can of Clear Spray
Dish soap (preferably)
Scissors
Paint shop program to make Circles
1000, 1500, and 2000 grit sandpaper
marker or pencil.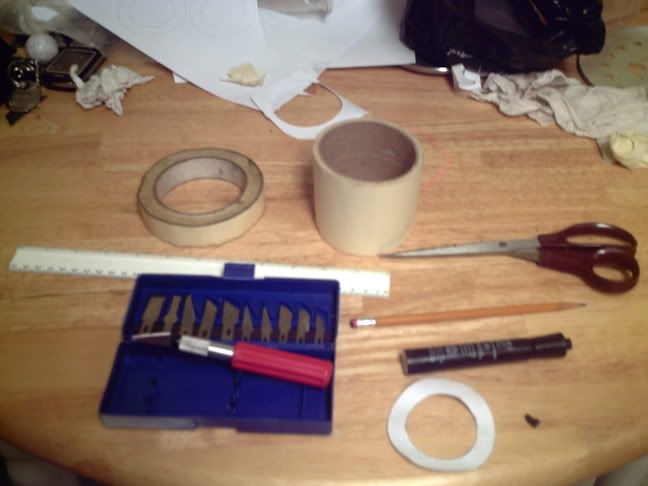 Ok now on with the show...
Fill a bucket of water about halfway and mix in the soap. Get some good bubbles going. A few drops is enough. The reason for this is so that you can get the oils washed off of you hands. Believe it or not, our hands have pores and they produce sweat and oils. You don't want this to get on your tails because the paint won't stick.
Start the sanding with the 1000 grit sandpaper...you don't want to make it too smooth cuz then the paint will drip. The key is to get rid of the shinyness until it's like a pastel shade.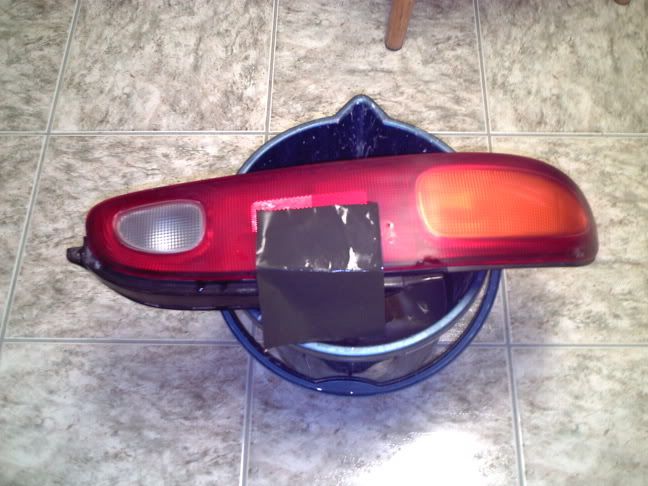 Repeat the process for the other tail.
Once you're done with the sanding, you need to get on Photo Shop or even Paint if you don't have the program, and make your circles. I don't remember the measurment i used, but i made 3 identical circles.
You want to mask off the part where you'll trace your circles.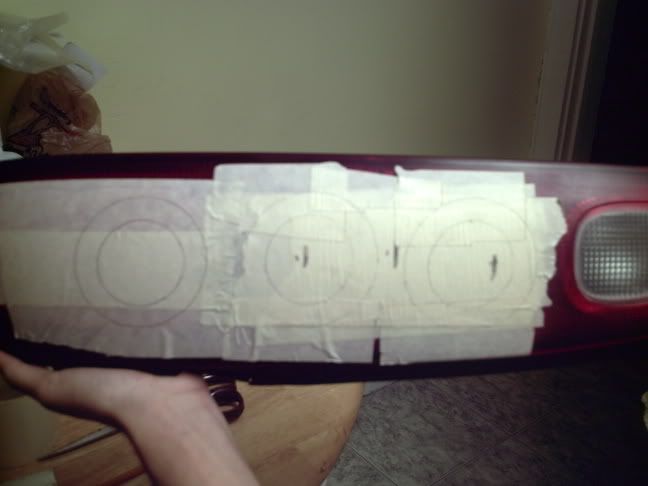 I used layers of tape and placed a little black line to outline each end of the rectangle reflector that we have on the tails. This way i can center my cirlces on those lines.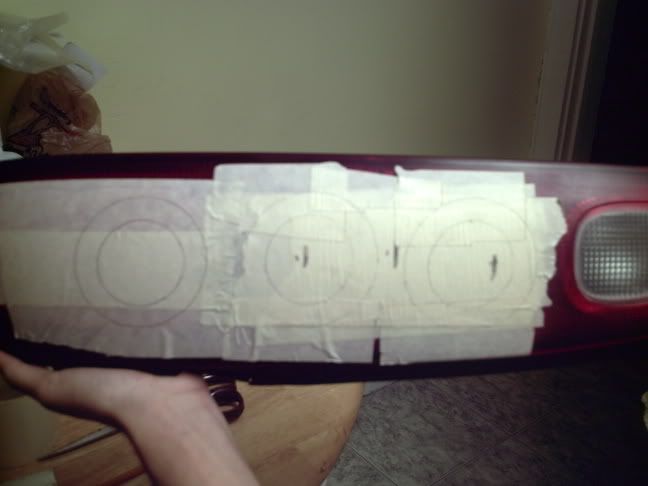 Now you can start your cutting out with the exacto knife. take your time and be patient. the more time you put in, the better it will come out.
Peel off the tape and you'll have ur outter circles.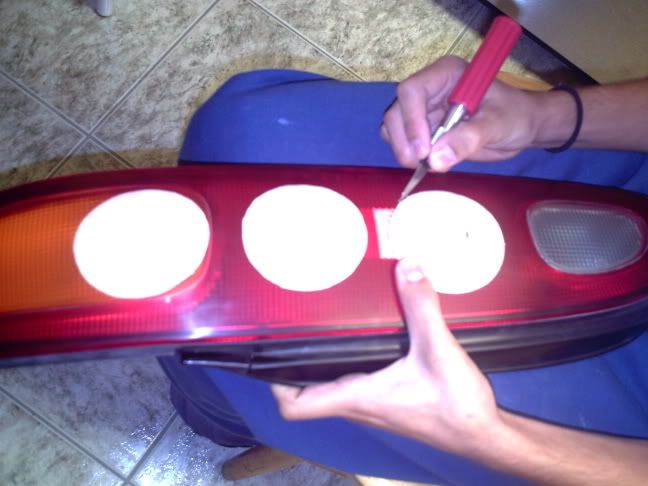 Take your time..make the cuts perfect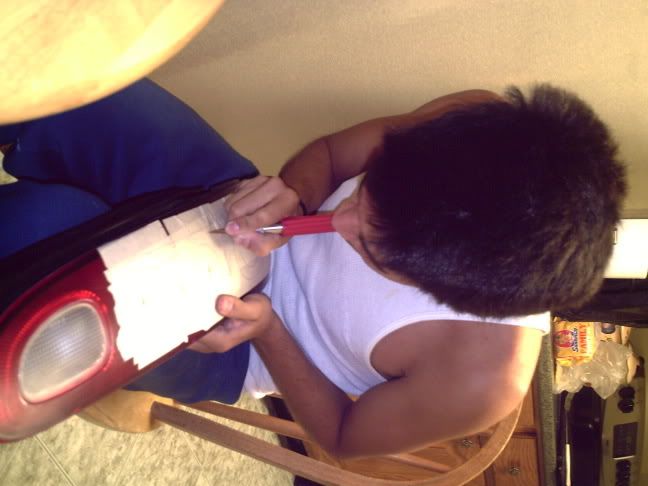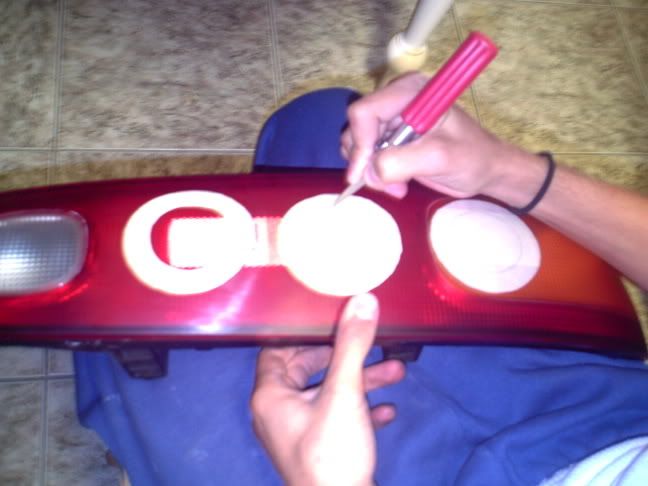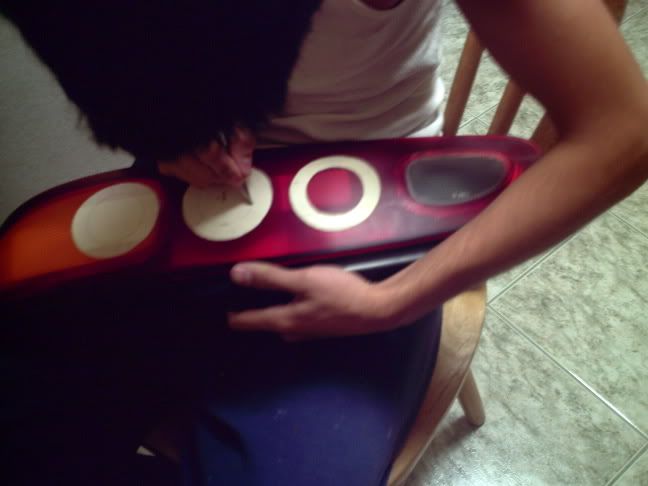 And the last circle...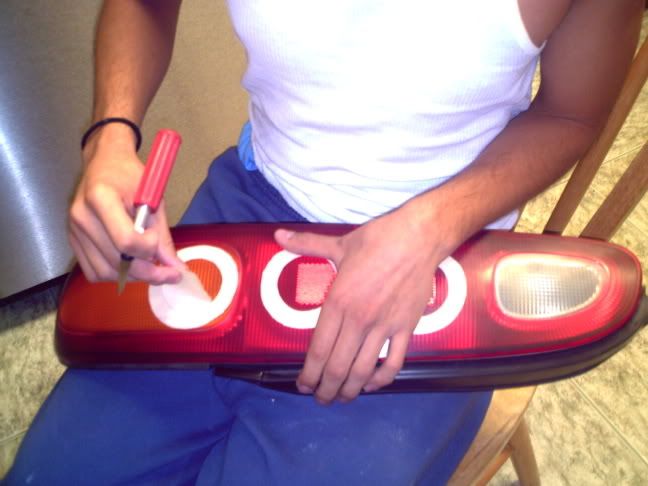 Repeat the process for the other tail.
Once you've got that done...head to a well ventilated area. I was a dumbass and went to my basement. The nightshades has a VERY strong smell. It went all the way up to my attic, and my mom started complainin and being dramatic with some, "i can't breathe!" lol.
REMEMBER TO WAS YOUR HANDS! YOU DON'T WANT OIL ON THE LIGHTS.
Spread some thin coats on there...I did 2-3 and let it dry over night.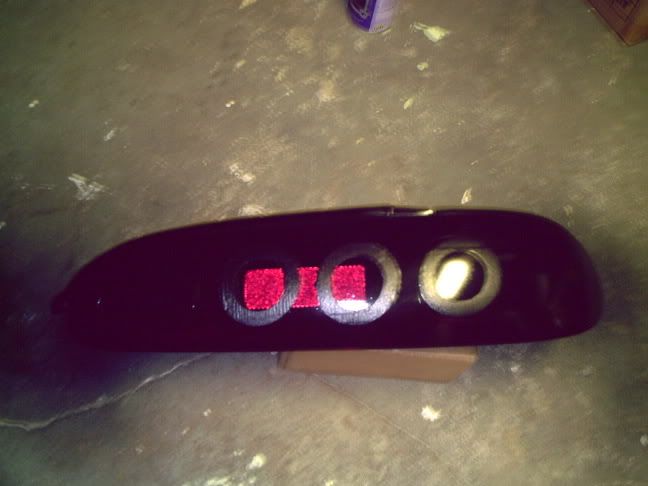 The next morning you can peel off the circles and apply some more coats. About another 2-3. Let it dry overnight again and......
Sand it down with the higher grit paper and apply a few coats of clear. This is to protect the tint from fading and give it that shiny to it.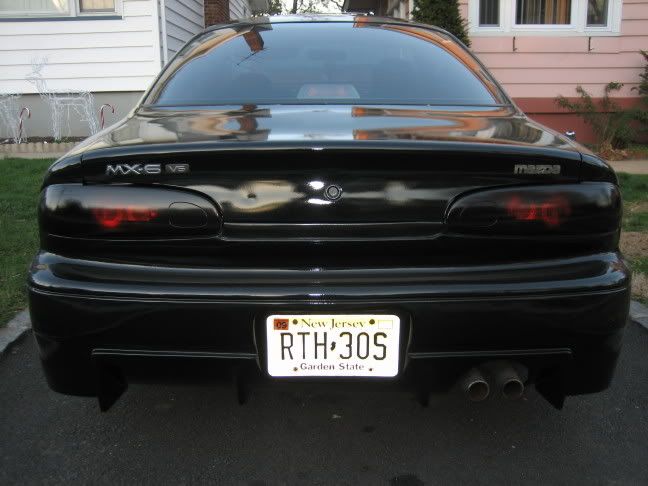 It looks really good at night. Kinda looks like supra tails when lit up. I'll have to take night pics. But hope i inspired some people. :wave: