And now the Throttle Body.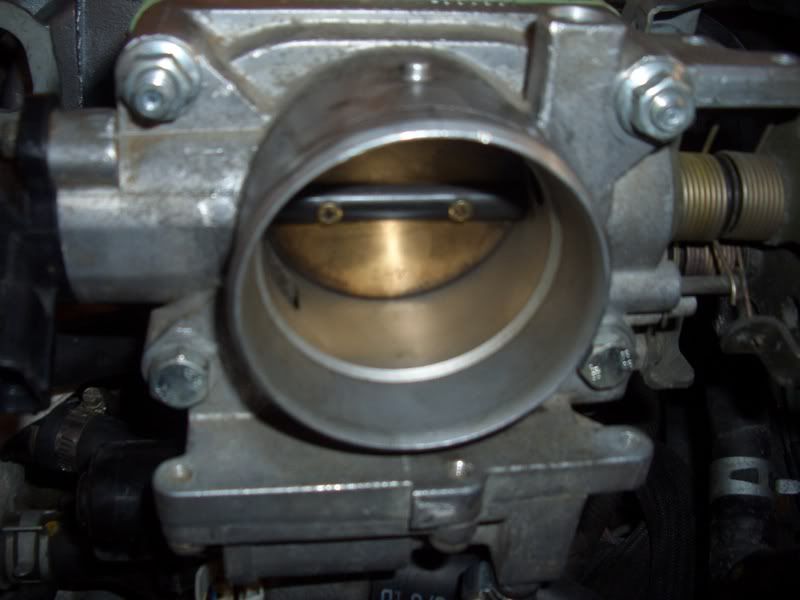 Push down on the throttle bracket and wiggle out the throttle cable and set aside or tuck underneith intake.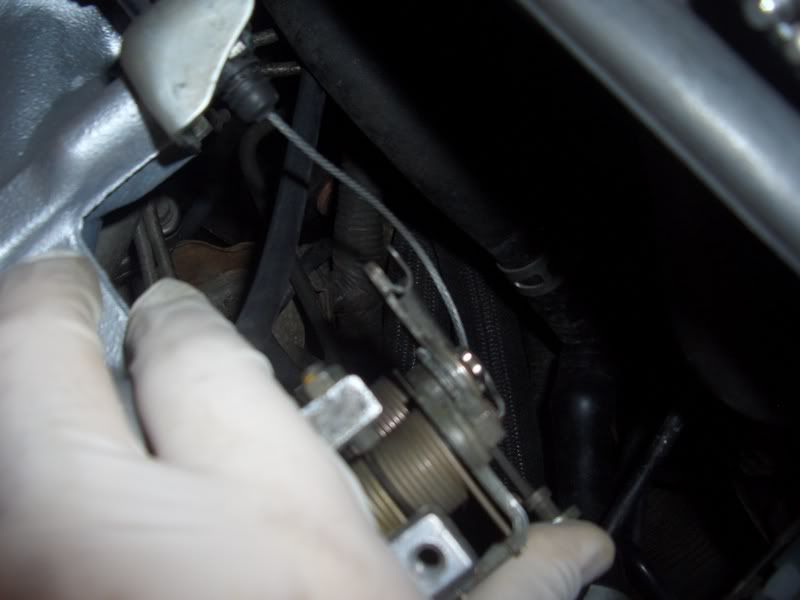 Use your 12 and 13mm sockets to remove bolts. For some reason the top two nuts are 12mm and the bottom two are 13mm bolts. I think its just the way it is. I first lossen the nuts/bolts and then take them off by hand, it allows me to spin them off.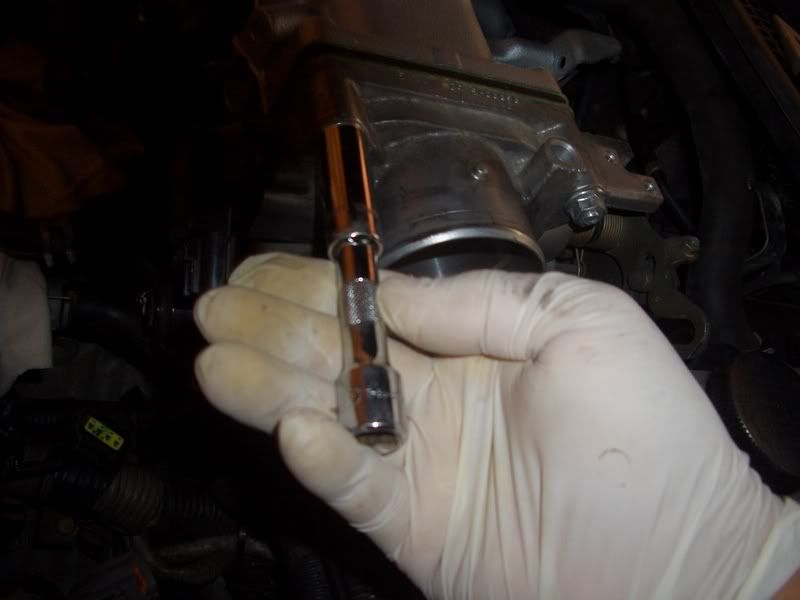 Again, on my set up, i have already put longer tb coolant hoses so on yours you may have to wiggle it out a little more. I was able to pull of throttle body in less than 5 seconds while holding the throttle bracket down. You dont have to remove brake fluid reservoir, just push down on the throttle bracket.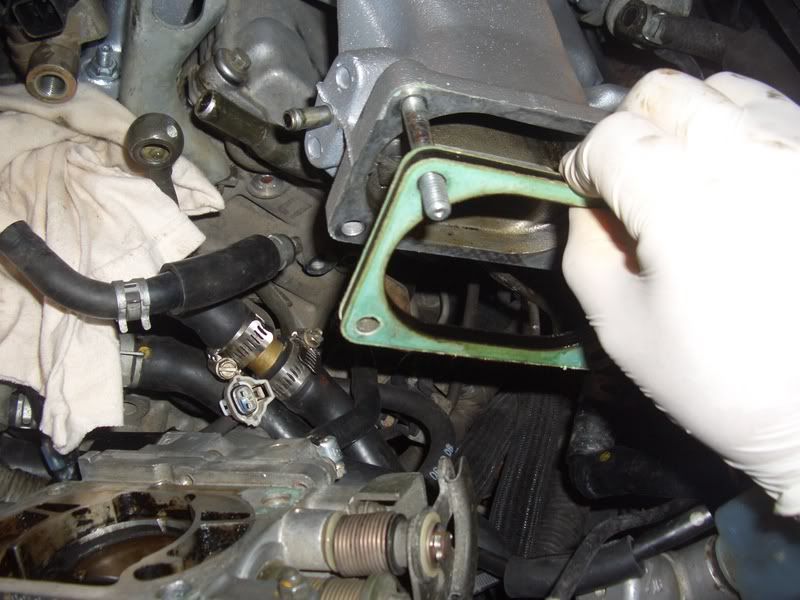 Still with me?
Next unplug the rear spark plug wires and set them aside. For the most part, the shorter plug goes to the closest plug and longest to the furthest plug.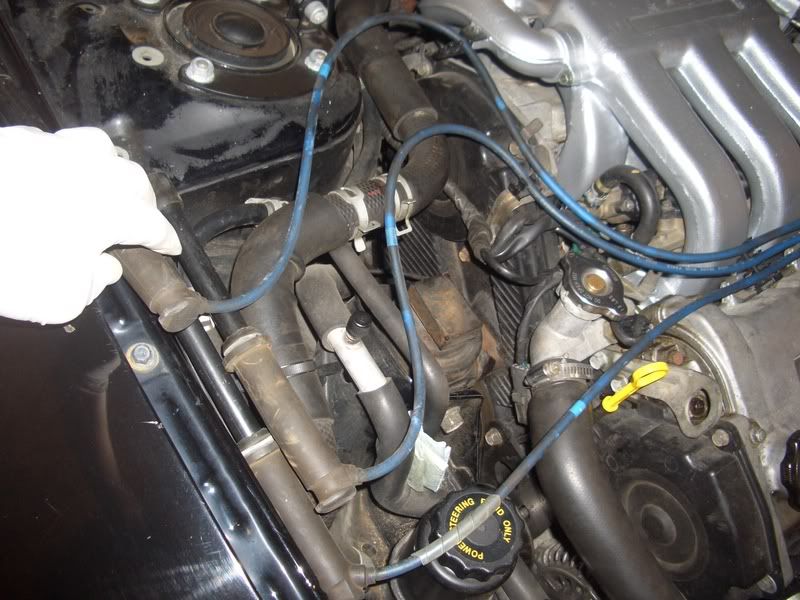 Remove the spark plug wire holding brakets on the front valve cover with your 5/16 socket or phillips. This will allow you to easily remove the intake in one shot. if not, you will have to wiggle it out or end up breaking the bracket being its 15 yr old plastic parts.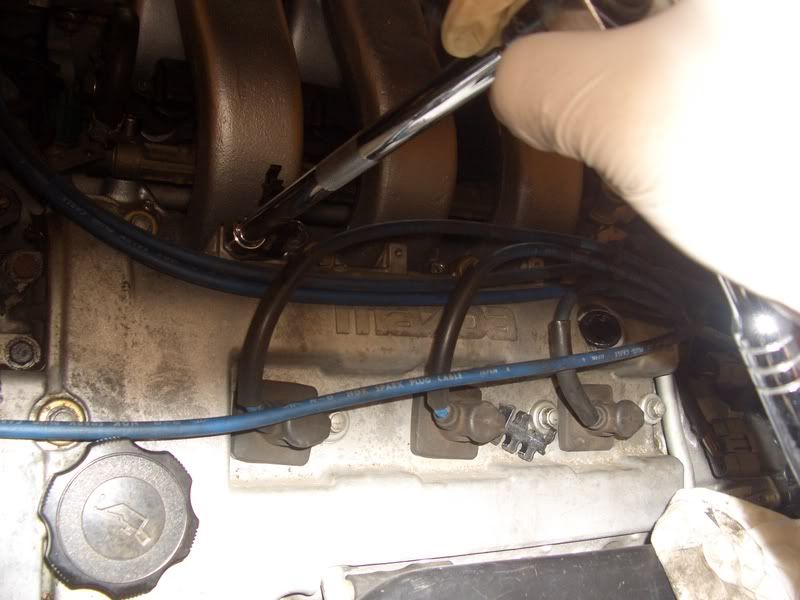 And this is why you need the magnet tool. I just screw it back in its whole without the bracket so i dont lose them.
And finally, the intake. Start by loosening the 8 bolts with your 12mm and then loosen the 4 nuts at the 4 corners. Again, I just loosen them so i can spin them off and remove them with the magnet tool. Make sure you dont lose anything.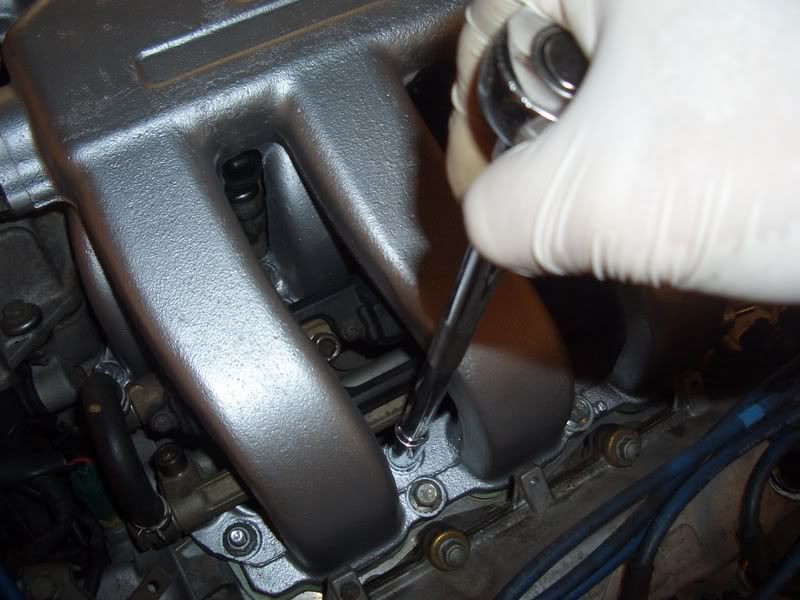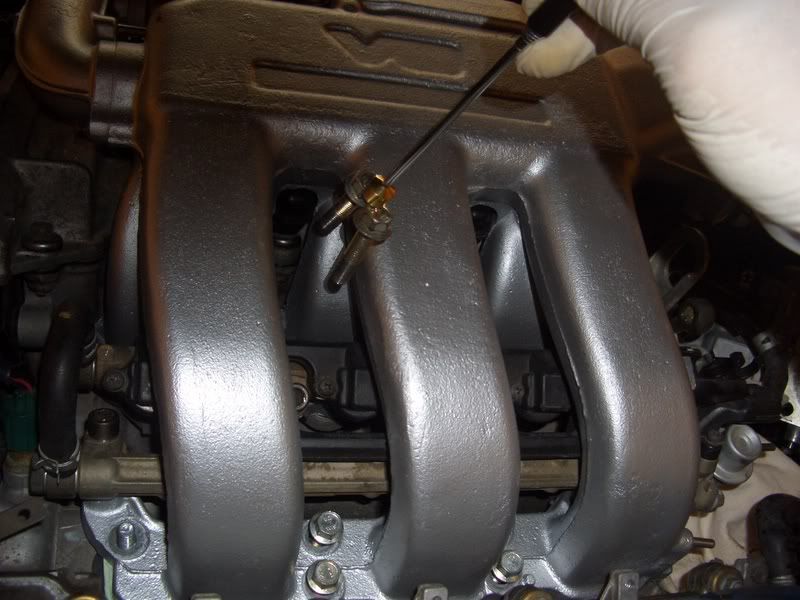 Remove the last short hose on the rear valve cover and intake hard line.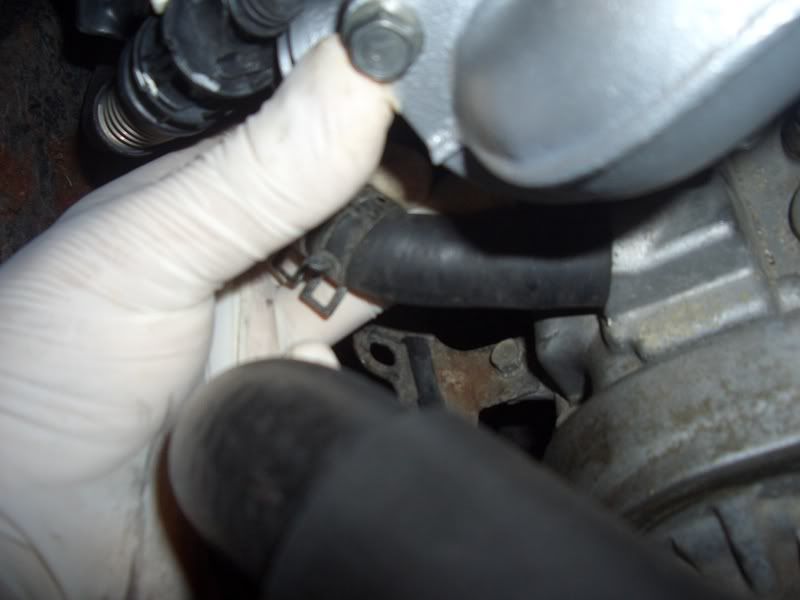 And that is it. If you still have your stock De intake, there is a bracket holding the intake to the valve cover on the back drivers side, use a small wrachet and a 12mm socket to remove it. You will never have to use this agian.
Now just grip the intake on the #2 runner and #6 runner or intake neck and pull.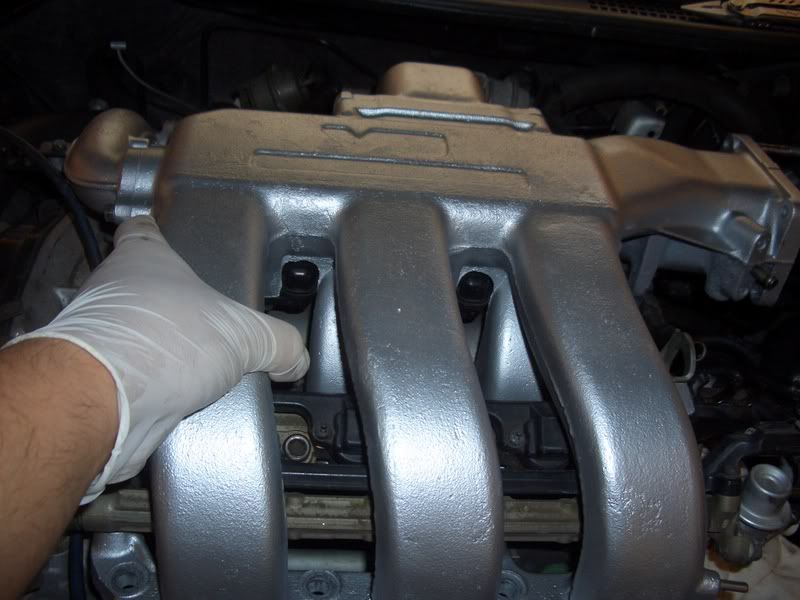 You should look like this. With my port matched spacers.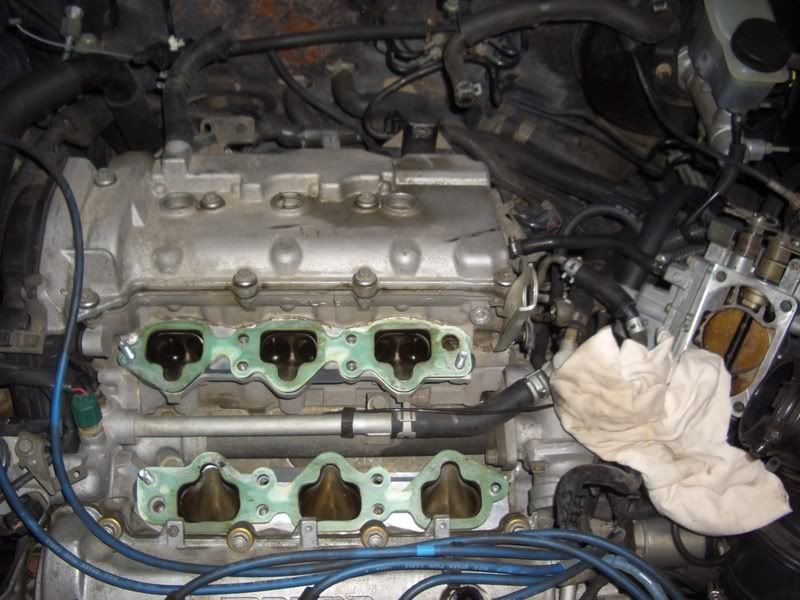 And carefully lay it down and inspect the vris lines and solenoid nipples. Make sure none are broken off. I would recommend replacing all vaccum lines if its your first time.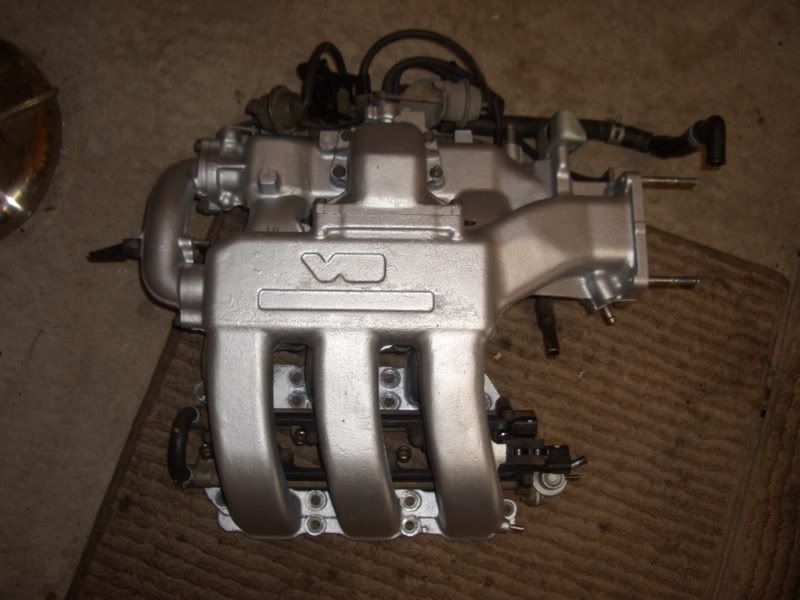 And now would be a good time to inspect the rear valve cover gasket for any leaks and your rear header for any exhaust leaks. Replace anything if necessary.
To reinstall everything, just follow simple steps backwards and you will be ok.
Congrats!
I dont think i missed anything but if i did, remember, i reminded you in the steps that your setup may be different than mine.
Hope this helps!! Ray
Incase my pics dissapear, here is a photobucket link to them..
RayzMX6 - Page 1 - Photobucket - Video and Image Hosting