i pulled my plugs this morning to have a look and give them a quick clean/gapping as i have a dyno day tomorrow (decided thats the only thing i was going to do to prepare). anyway most of my plugs were fine and looked like this (yes iridium is a waste of $$$ i know):
http://i299.photobucket.com/albums/mm284/stoker100/P130309_103001.jpg
http://i299.photobucket.com/albums/mm284/stoker100/P130309_1049.jpg
now cyl #6 plug looks like this (any idea what would cause this?) some of the buildup was quite solid and couldnt be removed with a wire brush i had to needle file it off:
its been about 4 years since ive changed plugs so ill be getting NKG V powers in the near future. yes ive been burning some oil, sometimes it doesnt burn any for 6 months then it burns lots for 3 months. now im assuming if the plug is gunked up the head will be gunked a little also, ive wanted to run seafoam through it but theres no retailers for it in Australia so ill have to find something else to use (suggestions please)
oh, and thats not crap from the spark plug well! i made this to clean the wells before removing the plugs (just to make sure no crud gets in there):
anywho wish me the best of luck for tomorrow im hoping to get over 125wkw (167whp), last time i went on the rollers was 2.5 years ago (i got 117wkw, 156whp).
http://members.optusnet.com.au/dstojko/dyno10th6th06.jpg
At the time i was running the ZE with a DE EPROM with ZE VRIS points tuned and nothing else, now ive added since then a 2.5" catback exhaust, 65mm TB, MSD and a full KL31 EPROM. While im not expecting much i think those mods would be good for 8wkw fingers crossed.
ill also be doing a little tuning during the runs, as some may know ive finished my tuning software (for now), i can modify the rev limiters, VRIS, fuel enrichment and timing maps while the car is running on the stock ECU heres a few pics: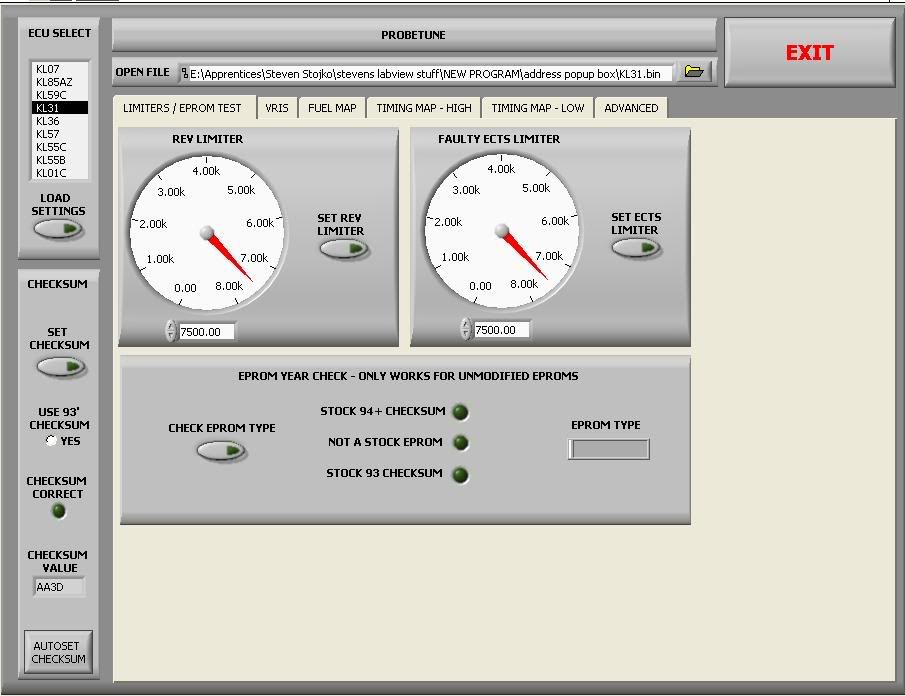 http://i299.photobucket.com/albums/mm284/stoker100/probetune/loadaddress34b.jpg
http://i299.photobucket.com/albums/mm284/stoker100/probetune/loadaddress34c.jpg
http://i299.photobucket.com/albums/mm284/stoker100/probetune/loadaddress34e.jpg