As most of us know. The 2g MX6 paint isnt too durable. If you've still got good gloss on your factory paint you:
A: Are the original owner and you take care of the paint
B: Lucky
C: The Weather in your town/city is always cloudy
D: You dont live in UV rays of death Phoenix as do I...lol
Seeing as I am non of the above, my paint is oxidized rather nastily. The hood, roof, trunk...basically all of the higher parts of the car.
Now my peace of mind is having a car that goes vroom versus a car thats all show and no go.
But when it comes to what your next hot date, or even your dates parents think, they have no concern what is under your hood or inside the car if the outside looks like someones ashy knees!
So if you've been looking everywhere for a solution to oxidized paint. Here you go.
My very best advice, save up the cash, find a reputable business, and get it painted.
BUT if of course money is a little tight, there are some alternatives.
You could go to a detail specialty place and have them buff it for you.
You could wax it your self.
Wet sanding
Rubbing Compound
But if your unlucky like me, and you wasted all your money on all of the above, laugh if you may, but believe it or not...yes are u ready??? Here it comes!
WD40
yes....
Wd40 after a good long wash, (or even just a run through wash at a gas station will do). After the car is all dry, with a rag and little sprays of WD40 you will instantly see the difference. Use as needed. If just certain spots (i.e. hood, trunk, roof) are the only places oxidized, then just apply there. If your whole car is baked more than a hot pocket, then go nuts. Shouldnt take more than 10 mins head to toe on the car!
I know some of you skeptics have tried "everything", but if you havent tried this. And your paint is already toast, try this. You will be surprised.
Pros - Nasty white oxidization goes away. Your car looks a ton better. You smile more :angel:
Cons - It will last for about 3 days (in AZ), dust gets attracted, it washes off with the next wash or rain.
I hope this helps those tight on cash who are looking to make their car look nice even if its only temporary! Or at least until you paint it!
and yes I know - :useless:
But as soon as it stops raining over here, I will show this process through pix!
-------------------------------------------------------------------------------------------------
Ok it stopped raining! Heres some pix
Ok believe it or not these are pix of the car after its been washed (Yeah, its oxidized that bad) Pix are of the hood and trunk taken with my phone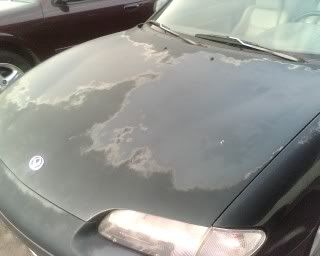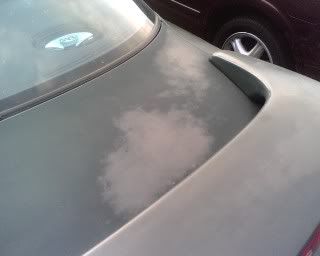 Ok now heres after I applied the WD-40 with a rag. Helps clear up foggy headlights a bit too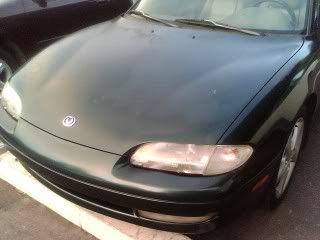 Yes I know "Your paints still ugly", but tell me there isnt a big difference with just a spray and wipe application?? Whole reason for the post. Hope this helps out some of the unfortunate =)