Okay so obviously we need something new and exciting here. What's the general consensus? I am pretty open to new ideas at this point. I just checked the main page and we have 17 members and 144 guests viewing our forums. We need a way to make those guests sign up and join our family.

We are already trying to revamp and organize the faq and how to section but it hasn't been getting the attention it needs and deserves. If anyone has free time and wants to join in please let me know and I will grant you access to the stuff we started working on and haven't gotten around to finishing yet.

Other ideas are appreciated as well.

My personal thought is that we are not as current with trends as other sites seem to be. Yes, I am talking about hellaflush fitment and slammed cars, which are very popular right now. Most trends are stupid and weird looking but at least they help to show that people who own those cars are trying new things. I haven't seen many "modernly modified" mx6's around here. Maybe we're all just too poor to buy new parts. :shrug:

Why don't people make build threads? I have one for my 3 and even if it doesn't get much attention on here it gets pretty regular views on other websites.
[brutally honest]
Personally, i can think of one thing that would make the site alot "better".
Remove ALOT of the insanely annoying commercials and adds. I run a Norwegian Mazda forum myself, and with two small google adds banners, on at the top and on on the bottom, i have an income that is twice what i use on hosting.
I know its possible to buy membership, but really, why bother when i can use probetalk and/or mazda626.net?
I rarely use this site unless i have to, and thats because of all the adds, because i find the forum layout messy, and there always seem to be alot of useless stuff floating around.
IMO, the solution is not to expand to other models, because there are already forums for that. What needs to be done, is to make this a site that MX6/626/Probe owners like to visit. And for me, this one is last in line.
Also, the color theme is not ideal. Gray on gray is hard to read.
Layoutwise, this is how the site looks in my browser: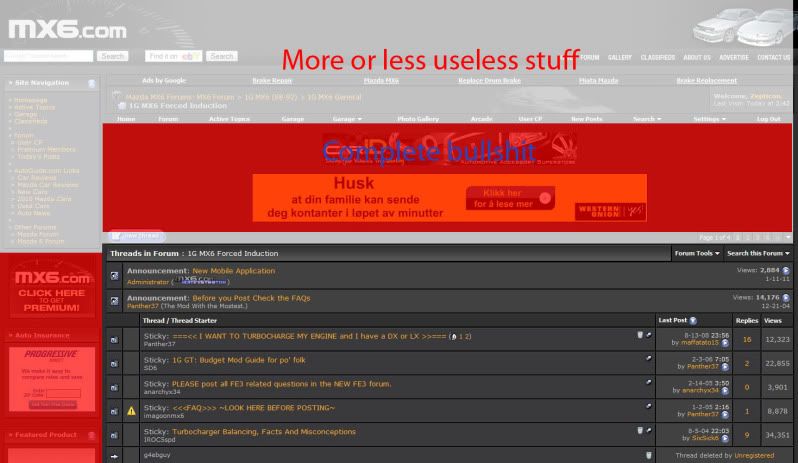 -The red should go
-The white should be shrinked
-Site-Navi menu should be moved from right to left.
If you want to make the site "better". Sit down with some friends that don't use the site, and have them "use" it. It will give you some incredible good information on whats good and bad, trust me, i do that for a living.
User testing can be done in 15-30 mins, and give information that not months of development would.
[/brutally honest]
To give some examples:
- Drop alot of the "sub-forums"
- instead of 10 different sale forums, have 3. For sale (general), for sale (cars) and Wanted. You dont need more than that imo.
- Order in order of importance. Except new members and Lounge, everything in "open forum" is useless stuff that should be placed further down on the index.
- 2nd gen. should be almost on top, under lounge and new members, then 1st gen after 2nd gen. since those are the core forums.
I would do:
General Mx6(section)
- News
- Rules
- Member presentations
- Lounge
- Projects (if you want people to read and write, make it accessible)
2nd gen (year) (section)
- (FAQ / how-to)
- Tech
- Performance (Forced Induction subforum)
- Appearance
1st gen (year) (section)
- (FAQ / how-to)
- Tech
- Performance (Forced Induction subforum)
- Appearance
Classifieds (Section)
- For sale - General
- For sale - Cars
- Wanted
- Group buys
General tech (Section)
- Stereo
- Suspension
- yada-yada
Other Mazda(Section)
Regional (Section)