well, went out to take the temps in our fire pump room, after my boss (at another building) told me not to worry about the truck out by the pump room... Didn't think twice about it cause, he parks his car trailers that he builds out there...
(btw, this pic is taken about 20 feet away from our full 1000 gallon diesel tank)
Luckily it's in an enclosed building, but still... I was standing 2 feet away from the tank taking the pic!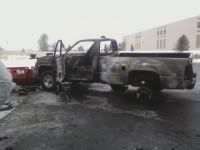 If you look by the rear wheel, that piece that's hanging down... yeah, that's the fuel tank(or whats left of it!!!!)
Here is the interior..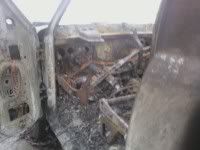 they've had an outside company come plow the parking lot and the receiving area. I guess it happened about 2am. The driver noticed flames under the hood and got out and ran. As he was on the phone with the fire department, the truck exploded, and the truck was then completely in flames. 3am it was out. they hooked up to a hydrant right next to our fire pump house, and ran our psi up to almost 275 psi! Also, there are pieces of the truck 50-60 feet away!
The driver was ok, luckily, but the asphalt is absolutely tore up, and burnt rubber, plastic, and the grill!!! pretty much cemented to the ground!
Crazy... not everyday I get to see this! Thought I'd share!!!
Jason