As far as the 2.5L KLZE/KLDE engines go, I see you gain more power off a turbo then a SuperCharger
According to some of the guys on other forums (Probe Talk, MX-3.com) the best SuperCharger for a KLZE is a Eaton M62 SuperCharger?
Anyway, here is why I am even looking into supercharging a KLZE
-For one, I like the fact that S/C dont take a long ass time to install
-dont demand oil like a turbo
-more reliable
-dont generate as much heat as a turbo
-S/C gives you down-low power, and plenty of torque
-a rebuilt M62 is cheaper then a used Turbo system
I got a intresting question to you guys,
if you were to have 2 MX3s... I mean MX6s, one with a KLZE TurboCharged and another with a KLZE S/C, how bad would the turboed KLZE beat the S/C KLZE in the 1/4mile? Would it be by much?
I checked out Jeff Abram's website and found this,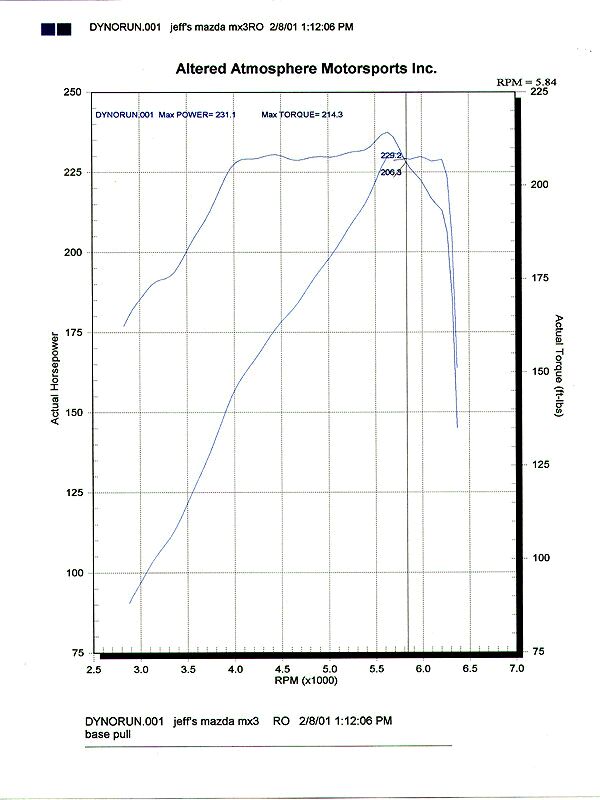 according to the dyno, he got 231whp and 214ft torque.
Was that on a KLZE or KLDE?
Would gaining 70whp from a M62 S/C be believable to you guys?
What kind of gains would I expect?
Anyone got any advice as to why I should look into a turbo system instead?